Medical AI is a true technology solution that comprehensively addresses chronic diseases. The hallmarks of this technology are its ability to predict, generate next-best-actions, and present the outputs in an easy-to-consume user experience.
Disease Onset Management

Care Gap Analysis

Patient Health Directionality & Trajectory

Disease Journey Mitigation

Forecasted Cost & Utilization

Member-level Cost & Utilization
Next-best-action Recommendations for:
Next best care management

Next best healthcare provider action

Provider intervention recommendations

Medical Adherence

Etc.
Learn more about how our model impacts specific disease states
"The future advancements in medical technology will come from our ability to move from human scale to machine scale. Technologies such as Medical AI augment human capabilities and create a future where we can trust both the machine and the human to make the best decisions"
R "Ray" Wang, CEO of Constellation Research, Inc.

Our technology has been shown to improve outcomes and is the first AI to be biologically validated through third-party clinical tests. With the ability to better classify patient populations, assign risk, and predict disease state transitions, Medical AI directly leads to:
Earlier detection and diagnosis of diseases / illnesses

Improved disease / illness management

Halted disease progressions

SHORT-TERM & LONG-TERM FINANCIAL IMPACTS
Medical AI can reduce costs by $100 PMPM. It has been installed for10+ clients and has demonstrated both cost reductions and savings associated with real-time predictions to determine at-risk populations and next-best-action recommendations that are based on statistical probabilities.
Our Medical AI is highly adaptable and can be implemented based on client need, whether it's on-prem or in a cloud, to reduce risk and increase security. We've proven interoperability with Microsoft Azure, Google's GCP, Teradata Vantage, SambaNova RDU, and ORock cloud.

CATALYZING VALUE-BASED CARE
Medical AI uncovers the unknown to understand the silent drivers that impact successful health outcomes and customer service leading to satisfied patients and higher star-ratings. Greater visibility across care networks allows patients, providers, and payers to gain insight into performance drivers and derive comparisons to model better improvements
Other AI services for Healthcare vs. DeLorean AI's Medical AI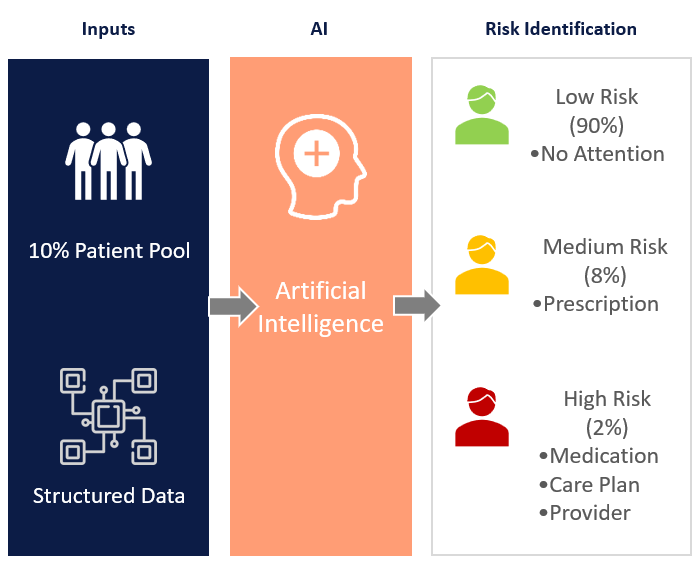 AI solutions for healthcare that are currently available often only use structured date and a portion of the available patient population to deliver limited results focused on analytics to inform users about what is going on presently.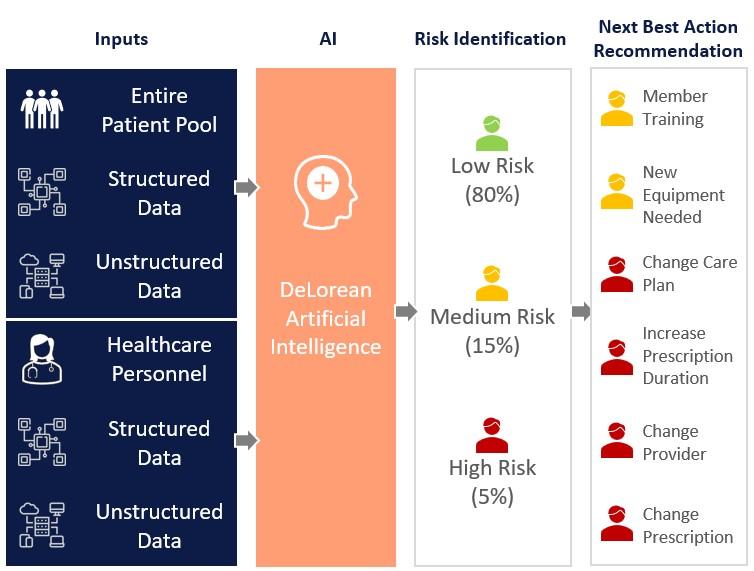 DeLorean AI's medical product uses the entire patient populations, structured and unstructured data, as well as includes supporting health information from personnel, EHRs, labs, etc. Then after performing classifications, it produces predictions and next-best-action recommendations, including interventive actions to realize better care.
Medical AI Results in Action
Quickly prioritize patients based on risk-level and potential need for care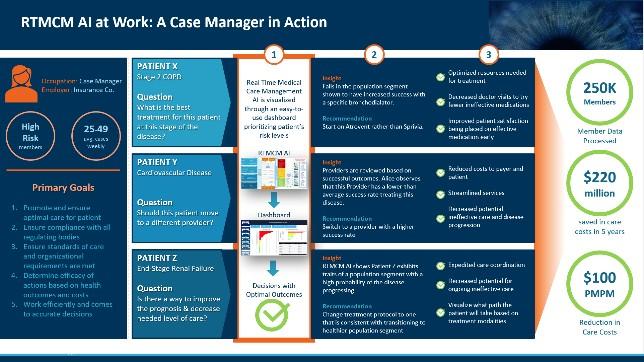 Medical AI generates real-time predictions and interventive next-best-action recommendations for care managers and medical directors to drive the most efficient treatment protocols and the best health outcomes.
Determine next-best-actions with statistically supported recommendations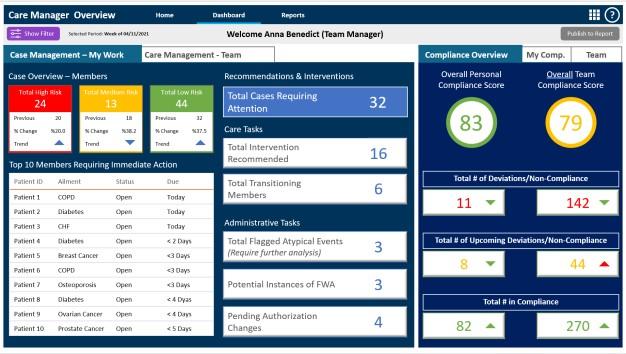 Medical AI results are delivered through easily consumable dashboards specifically tailored to the end- user needs, whether it's mapping to a client's existing system or using a new platform such as PowerBI or Tableau
Learn more about Medical AI and its real-time care management