Real Time Medical Care Management Artificial Intelligence (RTMCM AI)
The American healthcare payer market NEEDS the implementation of an AI that can source multiple data sources (structured and unstructured) to derive predictions (looking forwards) NOT analyses (looking backwards) to give payers, providers and patients better choices in care that reflect outcome, cost and regulatory compliance.  DeLorean Artificial Intelligence has developed a patent pending technology, Real Time Medical Care Management AI (RTMCM AI) that meets those needs.  Notably, RTMCM AI is a System of Intelligence (SOI) that develops mathematical profiles of patient journeys and treatment methodologies for specific pathophysiologies such as COPD, Coronary Heart Disease or Diabetes - sourcing information from claims, pharmacy, physician data, and external sources.
RTMCM AI is proactive at intervening and leveraging the insights generated to improve on disease prevention or progression, select optimal treatment, improve quality of care and longevity, and at the same time rationalize overall care management costs.
Real Time Medical Care Management AI is a full system of intelligence that harvests structured and unstructured medical and patient/member data internally and externally from the HC payer and categorizes medical risk level per member.  This health stratification is hyperpersonalized per member in real time.  RTMCM AI's patent pending and proprietary technology then predicts what the next best action for a care manager to increase health outcomes and decrease costs per member.  Further, the AI model identifies members that are prone or precursor to a major pathophysiology allowing for management for disease onset.
The RTMCM AI Model produces the following results:
Real Time Member Health Directionality - based on primary diagnosis code
Member Health Trajectory (outcome & cost)
Disease Onset Management
Care Gap Analysis
Terminal Disease Journey Prediction & Mitigation
Drug Adherence Driver Analysis
Forecasted Cost & Utilization
Member Level Cost & Utilization
A. Next Best Care Action
B. Next Best Healthcare Provider Action
C. Provider Intervention Recommender
D. Medical Adherence
RTMCM AI generates real time predictions and interventive next best actions for care managers and medical directors to drive the most efficient treatment modalities to drive better healthoutcomes.  The AI model produces an interactive module that is easily digestible for care managers and gives a simple risk based prioritized list of next best actions per member to drive increased health outcomes and decreased cost.  RTMCM AI decreases per member per month (PMPM) costs as well as decreased medical loss ratio (MLR).  DeLorean AI's clients have decreased on average their PMPM for the sickest 1% by $100 ($1200 annualized) and on average $10 PMPM decrease ($120 annualized) for the other 99% of members. RTMCM AI has been implemented in major disease state management such as End Stage Renal Failure, Cardiovascular, COPD, Diabetes and Juvenile Asthma.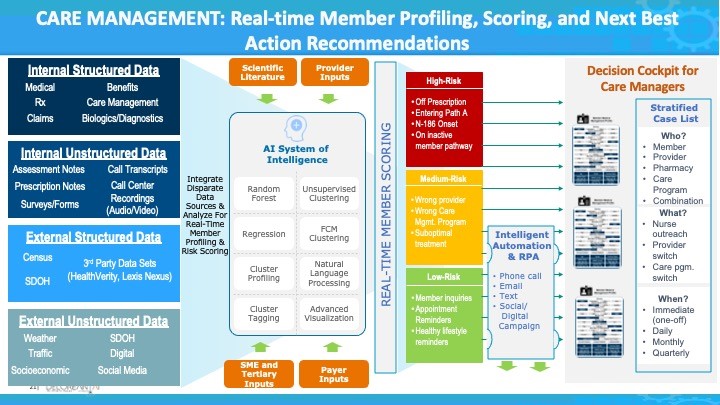 Figure 1.: Example of how data is processed in real time resulting in a Care Management output so care managers have a prioritized and hyperpersonalized list of tasks per member to increase health outcomes and decrease costs.
Optimized costs for treatment

Drive a decrease of $100 PMPM cost

Enable better managed care and help care management teams answer member questions in real time

Improve payer brand positioning with both patients and physicians respectively

Proactively manage payer approval for treatments
Establish a System of Intelligence capable of text mining all available information regarding members and their medical history, in addition to unstructured data sources

Perform risk analysis on member data and allocate risk scores based on the risk type (High Risk, Low Risk, Rising Risk)

Identify the key features contributing to member transition

Develop a practical demonstration of converting currently available unstructured data sources into usable structured format

Analysis of treatment protocols and monitoring of member and patient risk scoring over time allows for deep machine learning analysis of existing episodes of care

Provide hyperpersonalized care management recommendations per patient to decrease PMPM.  Allow insights per member for care managers to take specific tasks to increase health outcomes and decrease costs.
It is our understanding that healthcare payer organizations routinely analyse their medical and pharmacy claims and associated data to ensure that HCPs provide the most efficient treatment modalities to generate best health outcomes.  We applaud this process, however, this process which is in the right directions, is actually looking "backwards" rather than looking to predict or looking "forwards".  Our AI system of intelligence allows care management to make decisions that affect the member rather than make recommendations from lessons learned.
Please join us on our journey……