DeLorean AI has developed TAPE, Ticket Analysis Prediction Engine, a system of intelligence for IT operations to optimize business processes, reduce manual efforts, and increase delivery for customers.
DeLorean AI's TAPE has the capability of analyzing internal IT data using AI and machine learning to produce actionable, real-time insights. These insights can be used to inform decisions for both operations and business. More so, TAPE can predict events to realize optimization and efficiency and uncover the unknown.
DeLorean AI's TAPE predictions are 85% accurate
TAPE realizes business value at every level
Gain efficiencies through predictions that help tickets get to where they need to for the best result
Resolve tickets faster through more efficient routing and improved ticket agent assignment
Gain insight into potential events that impact business and create a plan to prevent or mitigate issues and expedite resolutions
Real-time Insights
Increase Operational Efficiency
Decrease Labor Costs
Deliver Accelerated ROI
Improve end-to-end business
Continuity Prevent Unseen ITSM issues
Harness the power of prediction to proactively detect an issue, intervene, and prevent the issue altogether or drastically decrease its impact
Funnel tickets to the best assignment group
Send tickets to the right agent for the best results
Know which occurrences are likely to take place
Get next-best-action recommendations to address concerns
ANALYTICS
Understand the effects of events on business, from performance to issues, to allow quick decision- making and uncover new opportunities
Highlight advantages in current processes

Detail obstacles in the current process and identify potential future issues
OBSERVATIONS
Understand complex data with succinct views of predictions and analytics to be readily informed, gain visibility into the business, and streamline operations
Identify areas or issues requiring attention

Understand what is happening in the process, e.g., cancellations
TAPE provides solutions where they're needed the most
Systems Integrators & Enterprise Software Companies
For companies that provide IT services, TAPE provides the opportunity to elevate capabilities and services offered to customers by:
Increasing the ability to competitiveness through differentiation

Lowering internal costs

Improving processes and performance
Businesses with Large Operations & Customer Tickets
For large businesses that employ IT Service Management, TAPE creates enhancements to overall operations by:
Reducing ticket resolution times

Improving conversion

Improving customer service and agent engagement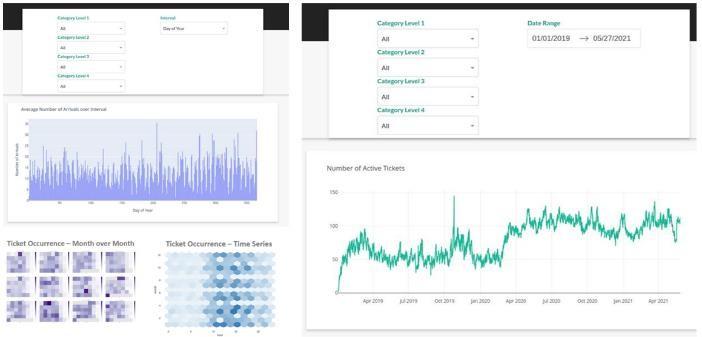 TAPE results are delivered through easily consumable dashboards specifically tailored to the end- user needs, to represent critical performance information

Key observations lead to insights on the overall process including areas such as:
Ticket closure rates

Duration of open tickets

Resolution of critical tickets

Etc.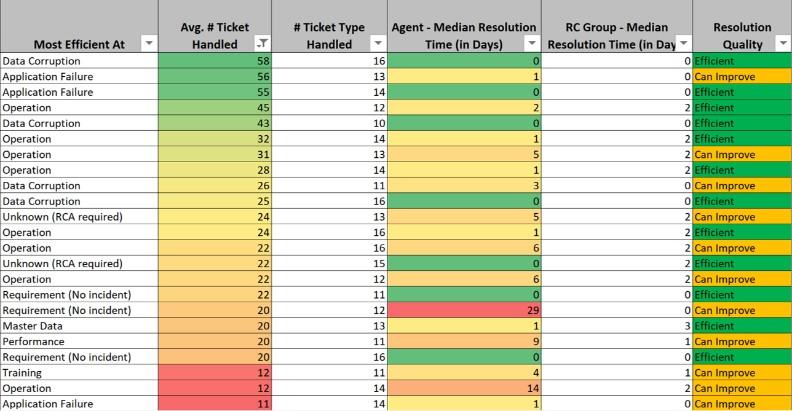 In addition to understanding the operation, get in-depth analytics on agents, their performance, and recommendations for improvements to enhance operations and customer service
Using AI to Change the Ticket Resolution Lifecycle
IT Service Management (ITSM) is often an invisible force that supports seamless business functions; there when something goes wrong, working toward a solution until the issue is resolved. Then the end-user and the business can resume normal operations once again.
However, a smooth operation can quickly turn into back-ups and delays as unpredictability, compounding issues, and unknown variables disrupt process flow and consume work hours. Unexpected downtime or periods of high-volume during poor network connectivity, infrastructure constraints, and application malfunctions while managing different ticket types ranging in severity and urgency creates daily challenges.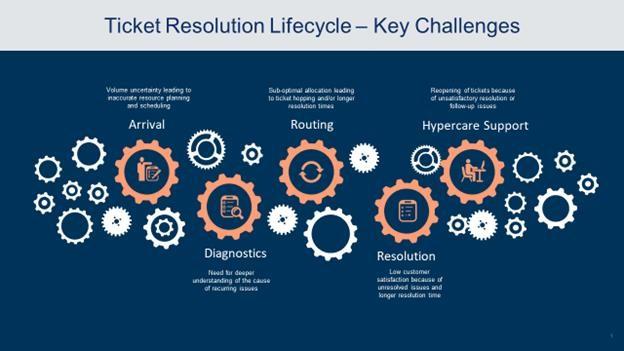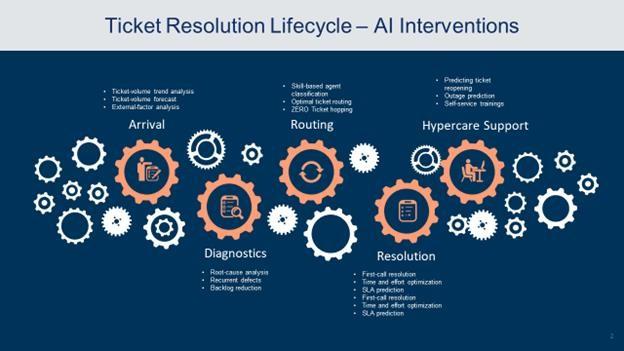 To counteract this and ensure IT can manage during atypical periods, companies often must maintain larger agent pools. Without knowing when to up-staff, negative impacts can occur before a resolution is reached or demand plateaus. Additionally, limited ability to mitigate or avoid issues altogether can precipitate downstream impacts felt across systems by users and the business leading to financial loss and internal/external customer dissatisfaction.
Despite these cumulative obstacles posing challenges to optimizing processes or even introducing automation to operations, a system of intelligence can offer a solution to gain a deeper understanding of operations and drive predictions based on ticket assignments, event causes, and more.