With the crescendo of Artificial Intelligence (AI), cognitive computing and technologies currently in development and those yet to come, combined with the advent of Data Sciences and Big Data, the US Healthcare System is entering a period of natural selection, an evolutionary or extinction event for the major market shareholders. AI and other advanced technologies are poised to change the landscape of how Healthcare is delivered, administered and regulated.
Currently, industry in all verticals are preparing for the "AI Bloom" to commence in 2020, reach a $60B market potential by 2025 and create $15 Trillion in economic impact at the nascence of maturity at 2030. Industry literature predicts that 25% of this economic impact will be North American based and concomitantly 25% of the impact will be in Healthcare sector. Thus, one can conclude that the value that will be achieved through the implementation of AI and advanced technologies will be ~ $1 Trillion in the USA, which will come in the form of top and bottom line growth. Industry, consulting and technology companies are rapidly ramping up capabilities internally and acquiring technology between now and 2020 to prepare for the predicted market demand. This leaves host companies approximately twenty months to prepare for the commencement of AI implementation and the expectation for an ROI for that investment. In terms of Healthcare Payers we know that those companies that are investing in AI compared to their counterparts that are not are seeing an increase of 17% in revenue and margin.
Concurrently, new technologies are being evaluated as to how they will impact Healthcare delivery and administration. The Network for Excellence in Health Innovation (NEHI) think tank has determined that advancing technologies are readily available to be implemented, however, administration, management and regulations are not prepared to incorporate the promise of these technologies nor are payers able or willing to adapt these technologies as fast as other industry verticals such as banking and financial services. Healthcare payers are satisfied with adoption of platforms and processes achieving fifty basis points in improvement where the banking and financial services industry are seeking full percentage points or even five or ten percent in terms of ROI. In short BFS is driving change and willing to evolve where the HC industry is satisfied with mediocrity. NEHI is striving to evangelize the preparation for adoption of these technologies by 2025 through informed administration, adoption and regulatory adherence. By 2025 there will be an intersection between a semi mature AI technology market and the ability and willingness for industry to adapt. Whilst this sounds acceptable, it is not. The healthcare industry, specifically the payers need to be early adopters to drive improved financial performance, increased health outcomes, enhanced regulatory compliance whilst also delivering quality service and retention of customers – in this case members, patients and the US Government/tax payer. We should expect better, and we can achieve this relatively simply with the right vision and execution. What is stopping our industry? Corporate antibodies, however, others outside the health industry see opportunity due to the current market variables.
Healthcare delivery is changing rapidly and is ripe for disruption. The US Healthcare Payer market has been stagnant for the past couple of decades until Obamacare. Obamacare, whilst there are/were pros and cons, did two things that were impressive: 1. Demanded health outcome accountability from payers and 2. Began the debate about the future of how healthcare would be administered in the US. Previously, the stagnation was based in the foundation of private insurance companies, but Obamacare began the discussion of a single payer system and this debate played out in the 2016 presidential election, and there did not seem to be a clear-cut answer that was beneficial.
Then something happened that was truly American, American ingenuity if you will or an industry ready for disruption. What was this event? The CVS Aetna merger – truly brilliant. For most this came out of left field. Why is this so important? Firstly, it was the first move towards disruption, and second it is a new company with the promise of an unprecedented access to healthcare data. The CVS Aetna merger holds great promise for consumers, however, may be an evolutionary or extinction indication for the other large payers. There are four areas of HC data: Pharma, Pharmacy, Payer and Provider. Most payers have about 30 to 40% access to these data sources, meaning that they have access to the entire payer and some of the other three categories. The new CVS Aetna company now has access to approximately 75 to 80% of this data. CVS Aetna if it is capable of harnessing and merging the data from the two entities will be able to employ AI and other advanced technologies to lower costs, drive customer/member growth, increase health outcomes and enhance regulatory compliance at a rate of at least 5 times that of their top competitors both in the pharmacy and payer verticals. The question remains if they have the vision, know how and technical ability to achieve this historic data rich opportunity, and can they do it in a timely manner in order to disrupt the industry.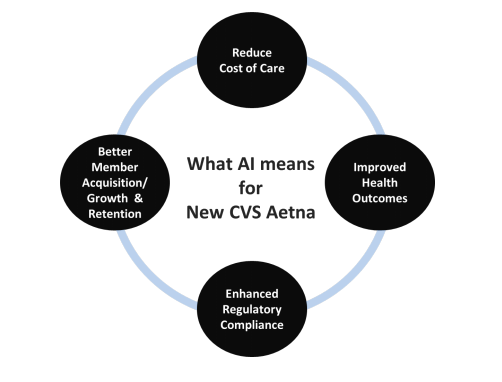 The CVS Aetna merger was the beginning of the disruption of the Healthcare Payer market. More interestingly were the succession of announcements from technology giants entering the market within the first quarter of 2018: Amazon/Berkshire Hathaway/JPMC, Google – digital pathology, HC hiring and build out, Uber and Lyft. This signals two things: 1. The US Payer industry is inefficient and outside players feel that they can do a better job than current market leaders with their expertise and technology and 2. Those Healthcare Payer giants need to choose to change to adapt to new market conditions and disruptions, implementing new technologies to drive evolution or face an extinction event. Kodak meet the Iphone.
The true value of AI & Data Sciences is the capability of the Art of the Possible and answering questions that clients are currently challenged rather than an out of a box solution. Imagine being able to predict when a company, plan or provider group will be acquired? Or going to the executive leadership of a client and telling them that they will need to acquire a certain set of capabilities due to a change in the marketplace or industry dynamics in next six months. This is reality and this is happening now. The risk to all HC Payers is if they fail to implement technologies such as Data Sciences and Artificial Intelligence, the alternative reality could be cataclysmic. Failure to do so may serve as an Extinction Event. Think of Kodak and digital camera phones – overnight a blue-chip company was made redundant and useless. Companies such as Accenture, Mu Sigma, Infosys and Wipro have provided Data Sciences as an IT function or selling platform offerings but not done a good job with consulting, bringing value to the business or operational implementation or truly solving problems which the Payer is grappling. In terms of the other side of the spectrum, consulting companies have started to enter this market on the consulting side but do not have the critical technical prowess of data scientists to execute projects on a large scale. The potential value for an for a HC Payer is to leverage the dichotomy of both Data Sciences in terms of technology (Machine Learning and Artificial Intelligence) combined with advisory operational implementation is SINGULAR and VAST. Not one HC Payer has the skill sets or intellectual property to currently build functional solutions to their current business problems and or challenges. This is clearly a differentiator that would allow a forward thinking HC Payer CEO a true advantage over all the other top 10 Payers. This is a niche opportunity that has not been realized and would be three to five years AHEAD of the CURVE of the rest of the industry market place.
So what can current companies such as UHG, Anthem, Cigna and Humana do? Investment in AI and new technologies with rapid deployment will allow them to lower their MLR and operating costs, drive increased health outcomes, and increase membership and member satisfaction. This is will drive both top and bottom growth. However, how do these corporate entities facilitate this change and adoption through vendors and consultants or home grown? The easy answer is through consulting and vendors, however, this can be more expensive but less of a risk than home grown. No one gets fired for hiring McK? The homegrown alternative requires a special type of CEO, someone that will have the vision to hire the right nucleus team and allow them to drive innovation, transformation and finally the operational implementation. The homegrown nucleus must have a seat at the table as well as the ability to work through archaic and siloed verticals from Claims to Medical to Marketing to Sales.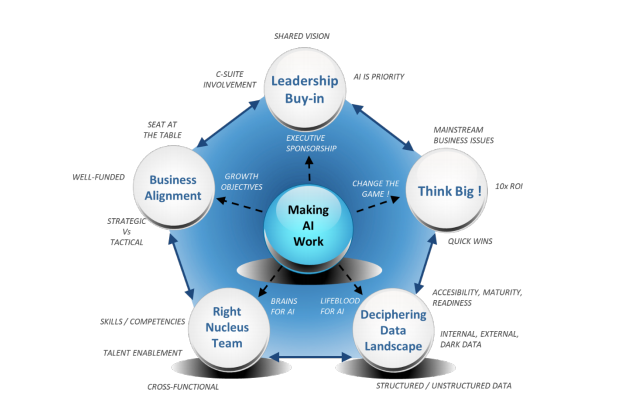 It is only when all corporate data, structured and unstructured as well as internal and external data is harnessed across disciplines that the ROI is 10X versus a 1XROI from a vendor or consultant.