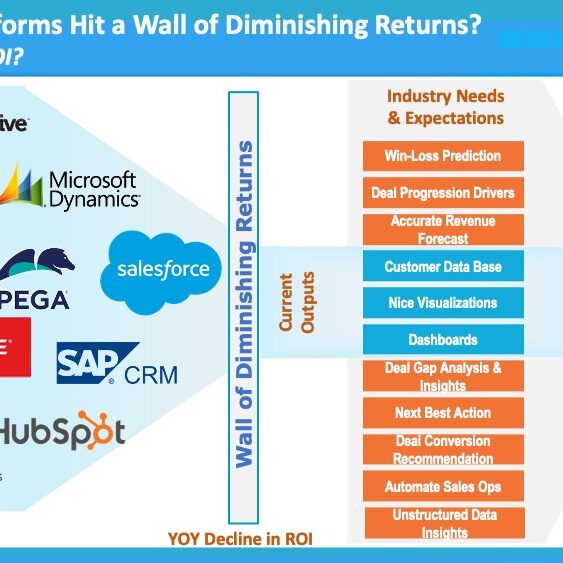 Have CRM Platforms Hit a Wall of Diminishing Returns? Could AI disrupt the Customer Relationship Industry?
What progressive value are CRM platforms generating? Have they collectively hit a wall? Maxed out their value and ROI?
With the advent of Customer Relationship Management (CRM) platforms the sales function of all major companies has been changed forever. Gone are the days of sales people pulling out a rolodex to call key clients. I would think implementing CRM platforms is a standard among Fortune 500 companies. Why? It is clear that prior to this industry adoption, a company's sales data primarily resided with individual sales representatives, their supervisors, and executives. Rolodexes, diaries, address books, and as technology progressed tablets, laptops, and handheld devices were the repository of the sacrosanct customer, client, and sales information. This information is pure gold, known as a sales person's "book of business". Preceding the digital awakening in the late 1990's and the centralization of this information, the value of a sales person was not only their ability to sell, close deals, and generate revenue, but also the almighty "book of business" they possessed.
It was not until the late 1980's, early 1990's that all the disparate sales information from the respective books of business were unified into a corporate value center – the data base. This data base and its effective use was referred to as Sales Force Automation (SFA). Tom Siebel (ex Oracle) was a pioneer of the industry's information to data transformation. The market further changed with the maturation of big data in the late 1990's and early 2000's. The ability to store, process, and connect large amounts of structured data gave rise to the opportunity that was the brainchild of Marc Benioff, Parker Harris, Frank Dominguez, and Dave Moellenhoff – SalesForce (SFDC).
SFDC disrupted not only the Enterprise Software customer data base market but also how sales were achieved, managed, and executed. SFDC was able to combine the capabilities of the internet, big data, and Software as a Service (SaaS) to decrease huge upfront adoption costs and allow for an affordable implementation of their product. As a result, the concentrated sacrosanct sales data was accessible, could be stored and analyzed, as well as visualized at scale. This was a truly remarkable and disruptive event that has created subtle but impactful changes, which we do not always recognize the magnitude of:
• Tracking sales leads and initiatives
• Centralizing customer data with many sales people globally accessing data for one client
• Promoting accountability through reports, dashboards, and as the CRM platforms have evolved, through automation
Enter the evolutionary event of the Cloud. Now, not only could a company's data be centralized and easily accessible, it could also be stored in an offsite environment. This precipitated additional efficiency for global companies to access this special data and support precision analytics. Highly informed decisions could be made around the sales funnel and sales cycle generating more opportunities for revenue. But were insights generated that lead to increased revenues?
The CRM market is estimated to reach a market cap of $113.46 Billion by 2027 – wow! Well, that obviously explains why there are so many players in the CRM industry as outlined by the 2020 Gartner Magic Quadrant: SFDC, Pega Systems, Oracle, SAP, Zendesk, Microsoft Dynamics, ServiceNow, Freshworks, Pipedrive, Verint Systems, Appian, Hubspot, Creatio, CRMNEXT, Kustomer, SugarCRM, eGain, and Zoho. Obviously, the need for companies to leverage their sales data has resulted in an appetite to spend capital that supports this market and broadens competition. Concomitantly, there appears to be a line of investors willing to stake new CRM companies that fundamentally perform the same function as their competition with no true differentiation in terms of technology or client results. I imagine the logic behind this is that the market is so large that any improvement, even a small one, results in a good ROI. But hold up, or as my millennial and Gen Z friends would say "slow your roll".
DeLorean Artificial Intelligence has questions: What progressive value do these CRM platforms generate YOY? Have these companies hit a wall in terms of the value that they generate? Has the client value generated a ROI – did the investment pay for itself?
The rolodex to data base to cloud based SaaS system was not only disruptive but truly a seismic transformation on how sales and its management function globally. I ask myself, what has fundamentally changed since 2007 or 2010? Better graphs and dashboards? Maybe some analytics?
Client companies have spent tens of millions of dollars to implement CRM platforms and transition to their cloud variation. Yet there are still pervasive issues amplifying inefficiencies and dampening the ability to realize top ROI. First, these technology investments are not fully realized as some clients are not utilizing the entire suite of services that have been purchased. Second, the platforms do not possess the ability to help upsell or cross-sell. Third, there is no ability to evaluate opportunities and deals to increase the likelihood of wins, estimate the probability of the deal will moving to the next stage, or even determine how much time a salesperson should even spend on a deal.
We would argue that CRM platforms have become fancy customer information data bases with cool visualizations. Analytics on the platforms analyze the data and deliver results of the past. By the time the data is collected, crunched, and analyzed, the company has move forward and is using outdated data to inform decisions – no insights. The analysis is looking backwards and not to the future, which it ultimately what sales is about. So the pressing question is; how can the sales function use the massive amount of data, both structured and unstructured, that is contained within these platforms to inform decisions of the future through true predictive insights?
DeLorean AI sees the CRM Platform market at an inflexion point on the precipice of disruption, and those who embrace it will become the clear market leader. SFDC and others would agree that the evolutionary event for this disruption is artificial intelligence, the ability to harness prediction to tell if a deal will win, move from one stage to the next in the sales funnel, and to predict more accurately and objectively revenue by quarter. SFDC answered this opportunity with Einstein.
SFDC announced the introduction of Einstein to their CRM cloud applications on September 19, 2016 stating that Einstein would embed AI into every client's SFDC, essentially becoming a personal data scientist. Hmmmm not so much! Smacks of IBM Watson's failed claims. Following 2016 there were a series of press releases stating the AI capabilities could be accessed in just a few clicks and a few lines of code – simply not true. Einstein has been challenged to be able to predict the advancement of sales, which is good analytics yes, but AI no.
The challenge for Einstein and other CRMs is that AI is not a few simple lines of code. It is the ability to model massive amounts of data and make prediction capabilities that are actionable for a field service force. Further, we know too many CRM platform clients that do not use the AI portion of the purchased cloud platforms and continue to pay for those services which are not severable. The clear message is that the CRM giants have not cracked the code of predictive AI in terms of deal and sales progression. What is crystal clear is that whichever CRM implements AI that drives increased sales will gain significant market share.
DeLorean Artificial Intelligence (DAI) has developed a proven proprietary patent-pending technology, Customer Relations Management AI (CRM AI). CRM AI predicts if a deal will sell or not, if it will not sell where in the sales cycle will it die, and what is the next best action to move the deal to the next stage of the funnel and to win. Further, CRM AI allows sales to predict their revenue by quarter objectively. CRM AI knows which deals to pursue and those not to waste time. Our clients have seen a 7% increase in their sales with adoption of CRM AI.
DeLorean AI CRM AI